STAR RATING

Ci's Star Rating is calculated based on the following independent metrics:
RESULTS REPORTING
Grade based on the charity's public reporting of the work it does and the results it achieves.
DEMONSTRATED IMPACT
The demonstrated impact per dollar Ci calculates from available program information.
NEED FOR FUNDING
Charity's cash and investments (funding reserves) relative to how much it spends on programs in most recent year.
CENTS TO THE CAUSE
For a dollar donated, after overhead costs of fundraising and admin/management (excluding surplus) 62 cents are available for programs.
My anchor
About Habitat for Humanity Niagara:
Founded in 1993, Habitat for Humanity Niagara (Habitat Niagara) aims to provide affordable housing to low-income families across Niagara. It is an affiliate of Habitat for Humanity Canada and a member of the Niagara Poverty Reduction Network. Along with 1,400 Habitat affiliates around the globe, Habitat Niagara works toward a world where everyone has a safe and stable place to live.
Habitat Niagara's main program is homeownership, but it does not report how much it spends on building homes each year. Based on its financial statements, Ci calculated Habitat Niagara's total program spending as $2.1m in F2020.
Habitat for Humanity Niagara's homeownership program helps low-income families buy affordable homes. The charity raises funds for land and materials to build new houses. Habitat Niagara sells its homes to eligible families with no down payment required, financed through interest-free mortgages paid over 20 years. Habitat Niagara also requires each family to contribute 500 hours of "sweat equity" by volunteering to build homes or working at Habitat ReStores. After receiving mortgage payments, the charity reinvests the money into future building projects. It estimates that the average cost of building each home is around $350,000. Since founding in 1993, Habitat Niagara states that it has built 66 homes for 72 families, including 248 children.
Aside from its homeownership program, the charity helps to fund Habitat for Humanity Canada's Global Village program. The program sends Canadian volunteers to help build homes in developing countries. As of 2018, Habitat Niagara reports that it has raised funds to build 170 homes around the world.
My anchor
Results and Impact
Habitat Niagara's most recent impact report is from 2018. Certain results refer to 2018.
In 2018, Habitat Niagara found that 87% of families reported fewer cases of asthma and allergy symptoms after moving into their new home. In addition, 76% of families reported improvements in family health and children's grades. On average, the charity states that household income rises by 6% each year after moving into a Habitat home.
While Ci highlights these key results, they may not be a complete representation of Habitat for Humanity Niagara's results and impact.
Charity Intelligence has given Habitat Niagara a Low impact rating based on its demonstrated impact per dollar spent.
Impact Rating: Low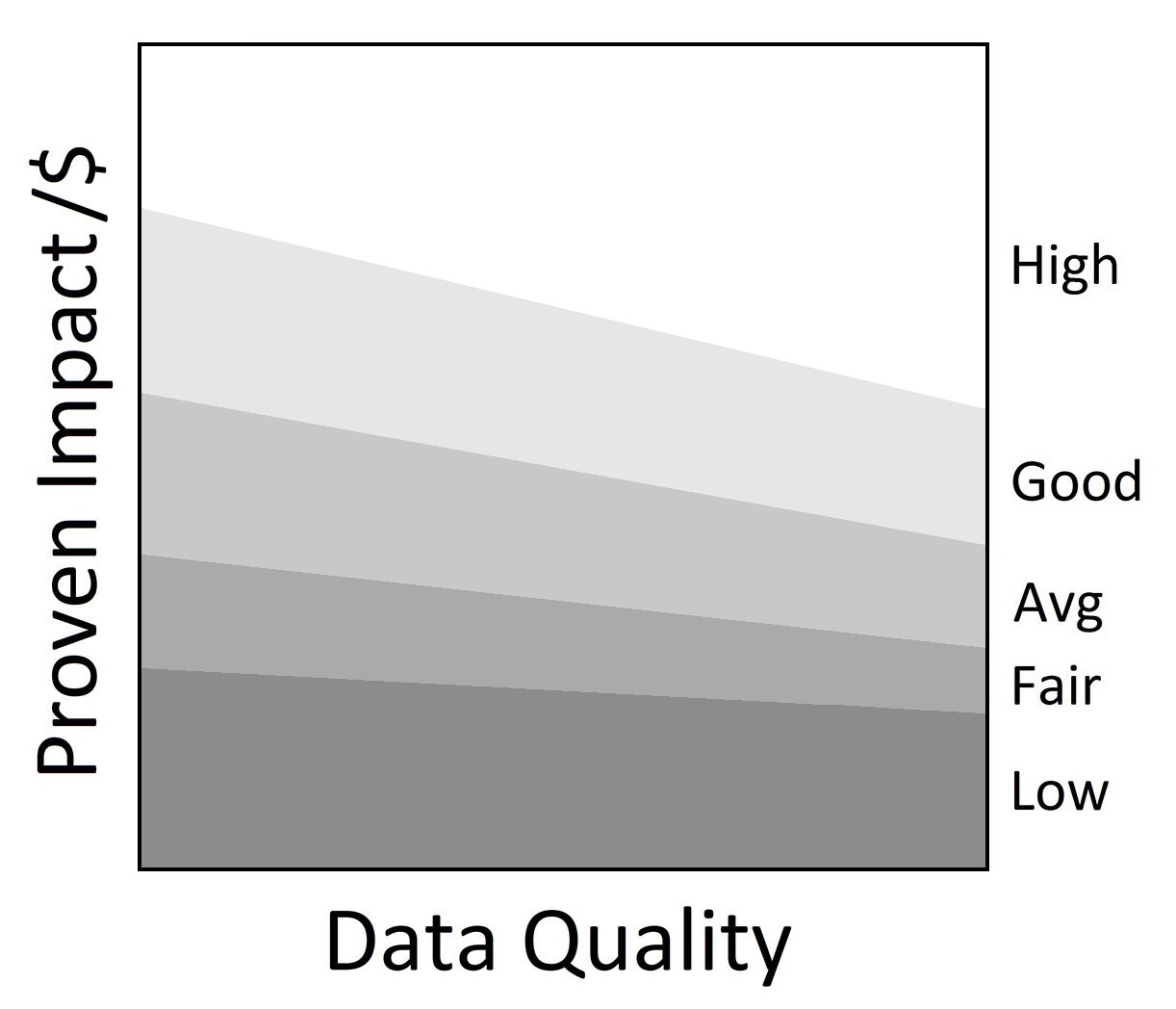 •
My anchor
Habitat for Humanity Niagara is a small charity, with $174k in cash donations and $36k in donated goods in F2020. It also received $676k in mortgage payments (15% of revenues) and $450k in covid-19 government assistance (10% of revenues) during the year.
Administrative costs are 8% of revenues and fundraising costs are 30% of cash donations. This results in total overhead spending of 38%. For every dollar donated to the charity, 62 cents go to the cause. This is outside of Ci's reasonable range for overhead spending. Habitat Niagara's fundraising ratio increased in F2020 mainly due to a 41% drop in donations rather than due to rising fundraising costs. Its fundraising costs also fell by 9% during the year.
Habitat Niagara's funding reserves are shown as negative since its interest-bearing debts of ($2.0m) exceed its liquid assets of $1.5m. This is common for Habitat for Humanity chapters across Canada, which hold mortgages for first-time homeowners. Excluding interest-bearing debts, Habitat Niagara's gross funding reserves can cover 69% or around eight months of annual program costs.
Charity Intelligence has sent this update to Habitat for Humanity Niagara for review. Changes and edits may be forthcoming.
Created on August 4, 2021 by Eric Zhao.
Financial Review

Financial Ratios

Fiscal year ending December

2020
2019
2018
Administrative costs as % of revenues
8.1%
8.6%
9.1%
Fundraising costs as % of donations
30.2%
19.5%
12.7%
Total overhead spending
38.3%
28.1%
21.8%
Program cost coverage (%)
(27.5%)
(53.0%)
(69.4%)
Summary Financial Statements

All figures in $s

2020
2019
2018
Donations
174,334
297,857
538,421
Goods in kind
36,180
255,881
28,000
Government funding
449,767
99,078
26,634
Fees for service
676,199
494,321
296,321
Business activities (net)
2,198,756
2,468,156
2,555,313

Other income

872,254

590,200

463,909

Total revenues

4,407,490

4,205,493

3,908,598

Program costs
2,114,364
2,179,410
2,321,604
Administrative costs
357,451
363,457
355,403
Fundraising costs
52,614
58,008
68,287

Other costs

105,445

104,688

116,965

Total spending

2,629,874

2,705,563

2,862,259

Cash flow from operations
1,777,616
1,499,930
1,046,339
Capital spending
53,376
4,422
81,051
Funding reserves
(581,323)
(1,155,495)
(1,610,698)
Note: To better reflect Habitat Niagara's homeownership program, Ci included mortgage payments received in fees for service. This affected revenues by $676k in F2020, $494k in F2019, and $296k in F2018. Unlike most Habitat charities, Habitat Niagara does not disclose costs of building operations. Ci excluded net proceeds and write-downs on home sales, affecting revenues by $nil in F2020, $234k in F2019, and $357k in F2018. Ci typically reports ReStore revenue net of expenses in business activities. Since Habitat Niagara does not disclose ReStore costs, business activities include gross revenues. According to its financial notes, Habitat Niagara reduced its operating costs by funding from the Canada Emergency Commercial Rent Assistance (CECRA) program in F2020. Ci reclassified CECRA funding as government funding and added the amounts back to program costs, affecting revenues and expenses by $110k in F2020. In F2019 and F2018, Ci gathered government funding from the charity's CRA filings and removed the amounts included in other income. The charity's F2020 filing was not available at the time of this report.
Salary Information
| | |
| --- | --- |
| $350k + | 0 |
| $300k - $350k | 0 |
| $250k - $300k | 0 |
| $200k - $250k | 0 |
| $160k - $200k | 0 |
| $120k - $160k | 0 |
| $80k - $120k | 4 |
| $40k - $80k | 6 |
| < $40k | 0 |
Information from most recent CRA Charities Directorate filings for F2019