STAR RATING

Ci's Star Rating is calculated based on the following independent metrics:
RESULTS REPORTING
Grade based on the charity's public reporting of the work it does and the results it achieves.
DEMONSTRATED IMPACT
The demonstrated impact per dollar Ci calculates from available program information.
NEED FOR FUNDING
Charity's cash and investments (funding reserves) relative to how much it spends on programs in most recent year.
CENTS TO THE CAUSE
For a dollar donated, after overhead costs of fundraising and admin/management (excluding surplus) 74 cents are available for programs.
My anchor
About Opportunity International Canada:
Founded in 1998, Opportunity International Canada (OIC) is the Canadian support partner of the US-based Opportunity International. It is a faith-based organization that serves individuals of all beliefs in developing countries. Its mission is to "empower people living in poverty to transform their lives, their children's futures and their communities" by providing financial resources and training. OIC supports local microfinance organizations, providing financial resources to empower people, create jobs, and build communities.  
Globally, Opportunity International's microfinance services include loans, savings accounts, microinsurance and financial training. OIC offers financial products aimed at helping farmers, empowering women, and training local leaders who can share financial knowledge with their communities. It also provides loans to communities that want to improve schools, water and sanitation, and other pieces of infrastructure. 
In F2020, Opportunity International loaned $3 billion to clients in 30 countries. Globally, it helped 19.5 million people access financial services. Opportunity International Canada reports that 95% of its loans are made to women. 
At the end of F2020, there were 14,252 schools holding loans from Opportunity International. Opportunity International reports that its school improvement loans have benefitted 7.3 million students.
My anchor
Results and Impact
Opportunity International Canada reports that 95% of its clients repay their loans. 
Opportunity International's partner in India studied the effects of Opportunity International's finance programs on the lives of its clients. It compared data taken when clients started the program with survey results from 2019. The proportion of participants earning less than $1.25 per day went from 75% to 35%, the proportion earning less than $1.88 per day went from 96% to 73%, and the proportion earning less than $2.50 per day went from 99% to 88%. They also compared the clients' living situations. They found that 65% of people improved their living conditions while 25% of people's living conditions did not change, and 10% of people were in worse living conditions than when they joined the program.  
While Ci highlights these key results, they may not be a complete representation of Opportunity International Canada's results and impact. 
Charity Intelligence has given Opportunity International Canada a Good impact rating based on demonstrated impact per dollar spent.
Impact Rating: Good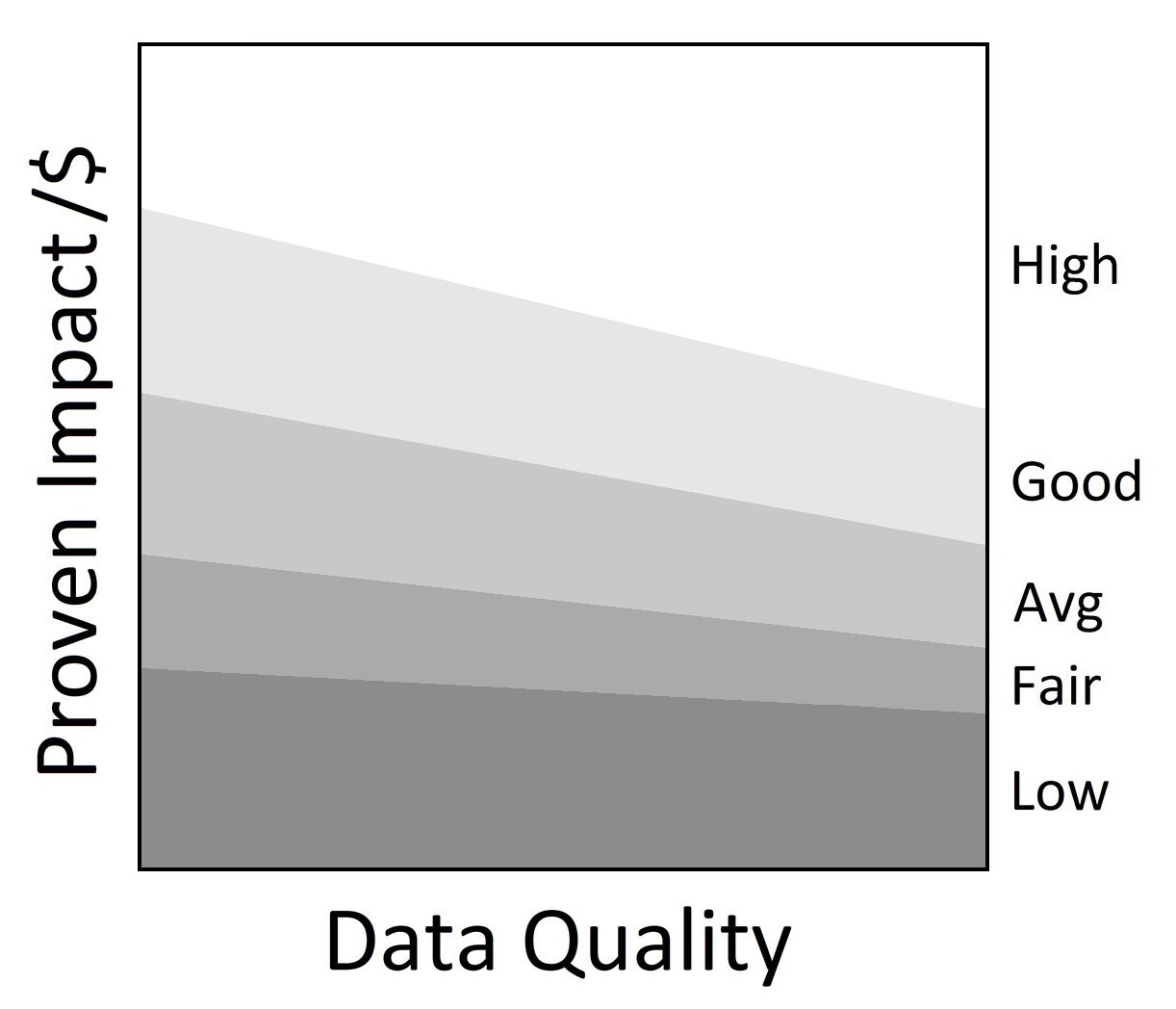 •
My anchor
Opportunity International Canada received donations of $4.5m in F2020. Administrative costs are 5% of revenues (excluding investment income), and fundraising costs are 21% of donations. This results in a total overhead spending of 26%. For every dollar donated to the charity, 74 cents go towards its programs, which is within Ci's reasonable range for overhead spending. The charity holds funding reserves of $4.7m, of which $99k is donor-endowed. Excluding donor-endowed funds, OIC's funding reserves can cover just under seven months of annual program costs.  
Opportunity International Canada used external fundraisers in F2020. The charity paid external fundraisers $36k to raise $174k, spending $0.21 per dollar raised.  
Ci has consolidated the financial statements of the Opportunity International Canada Foundation with those of Opportunity International Canada. Opportunity International Canada's year end is different than its foundation's, so although there is inconsistency in the figures presented, Ci has tried to present them as accurately as possible.   
This charity report is an update that has been sent to Opportunity International Canada for review. Changes and edits may be forthcoming.  
Updated on June 15, 2021 by Asha McMullin.
Financial Review

Financial Ratios

Fiscal year ending December

2020
2019
2018
Administrative costs as % of revenues
5.1%
4.4%
3.4%
Fundraising costs as % of donations
20.9%
24.9%
23.4%
Total overhead spending
26.0%
29.3%
26.7%
Program cost coverage (%)
54.8%
110.6%
75.8%
Summary Financial Statements

All figures in $000s

2020
2019
2018
Donations
4,507
4,382
4,511
Government funding
3,031
3,213
3,782
Fees for service
44
87
59

Other income

9

13

10

Total revenues

7,592

7,695

8,362

Program costs - International
7,309
4,253
6,287
Program costs - Canada
1,081
1,456
1,273
Administrative costs
388
338
280
Fundraising costs
941
1,092
1,054

Other costs

(158)

51

(49)

Total spending

9,560

7,189

8,844

Cash flow from operations
(1,969)
506
(482)
Funding reserves
4,693
6,410
5,732
Note: Ci has consolidated the audited financial statements for Opportunity International Canada and Opportunity International Canada Foundation. Ci has adjusted for OIC's donations to and from OIC Foundation, affecting revenues and expenses by ($397k) in F2020, ($634k) in F2019, and ($651k) in F2018. OIC Foundation's investments are all in the programs it supports. Ci has therefore included investment activities in program costs affecting expenses by $353k in F2020, $422k in F2019, and $966k in F2018. This change affected revenues by ($44k) in F2020, ($87k) in F2019, and ($59k) in F2018.
Salary Information
| | |
| --- | --- |
| $350k + | 0 |
| $300k - $350k | 0 |
| $250k - $300k | 0 |
| $200k - $250k | 0 |
| $160k - $200k | 1 |
| $120k - $160k | 2 |
| $80k - $120k | 1 |
| $40k - $80k | 3 |
| < $40k | 1 |
Information from most recent CRA Charities Directorate filings for F2020