STAR RATING

Ci's Star Rating is calculated based on the following independent metrics:
RESULTS REPORTING
Grade based on the charity's public reporting of the work it does and the results it achieves.
DEMONSTRATED IMPACT
The demonstrated impact per dollar Ci calculates from available program information.
NEED FOR FUNDING
Charity's cash and investments (funding reserves) relative to how much it spends on programs in most recent year.
CENTS TO THE CAUSE
For a dollar donated, after overhead costs of fundraising and admin/management (excluding surplus) 59 cents are available for programs.
My anchor
About Habitat for Humanity Manitoba:
Founded in 1987, Habitat for Humanity Manitoba (HFHM) provides affordable housing to low-income families in Manitoba and Northwest Ontario. It promotes a homeownership business model as a means to break the poverty cycle. HFHM is formally known as Winnipeg Habitat for Humanity and is based in Winnipeg. It has 11 local Manitoba chapters in Brandon, Carman-Dufferin, Dauphin, Gimli & District, Killarney, Portage la Prairie, Selkirk, Southeast, Springfield, Virden, and Winkler-Morden. It also has two Ontario chapters in Dryden and Kenora.
Habitat for Humanity Manitoba's affordable homeownership program is for families who do not quality for conventional mortgages. Partner families buy homes with no down payment and an interest-free mortgage. Mortgage payments are 27% of household income. Families must put in 500 'sweat equity' hours, spent either building a home or working in a ReStore. Mortgage payments go into a Fund for Humanity that is used to build more homes.
In F2019, HFHM finished building 24 homes (up from 22 in F2018). 18 of these homes are in Winnipeg, three in Brandon, and one each in Portage, Kenora and Virden. HFHM has built 425 homes since 1987. 24 new families moved into Habitat homes in F2019. This includes 61 children, eight single-parent households, six Indigenous families, and 14 families with newcomers to Canada. 240 families continued living in homes that they moved into in prior years.  
HFHM established its Dryden Chapter in October 2019, marking the second chapter in Ontario. Looking to F2020, HFHM plans to build 18 units in Winnipeg and six units in Chapter locations. The charity does not expect to meet these goals due to COVID-19 setbacks.
HFHM's ReStore retail profits cover overhead costs. ReStores sell donated building supplies, furniture, appliances, and décor at reduced prices. The charity runs three ReStores in Winnipeg and one in Brandon. In F2019, ReStores diverted 1,200 tons of material from local landfills. HFHM also operates Habitat Handyman, a social enterprise that offers home repair and renovation services. Handyman profits are used to cover homeownership program costs.
My anchor
Results and Impact
In 2015, Boston Consulting Group evaluated the impact of Habitat homes. It found that every dollar invested in build projects produces four dollars in social benefits. In 2013, Canada Mortgage and Housing Corporation conducted an outcomes survey on families from 42 Habitat affiliates in Canada. 87% of surveyed families reported less asthma and allergy-related conditions, 76% reported improvements in overall health, and 76% reported improvements in children's grades.
Charity Intelligence has given Habitat for Humanity Manitoba a Low impact rating for demonstrated impact per dollar, primarily due to the high cost per family.
Impact Rating: Low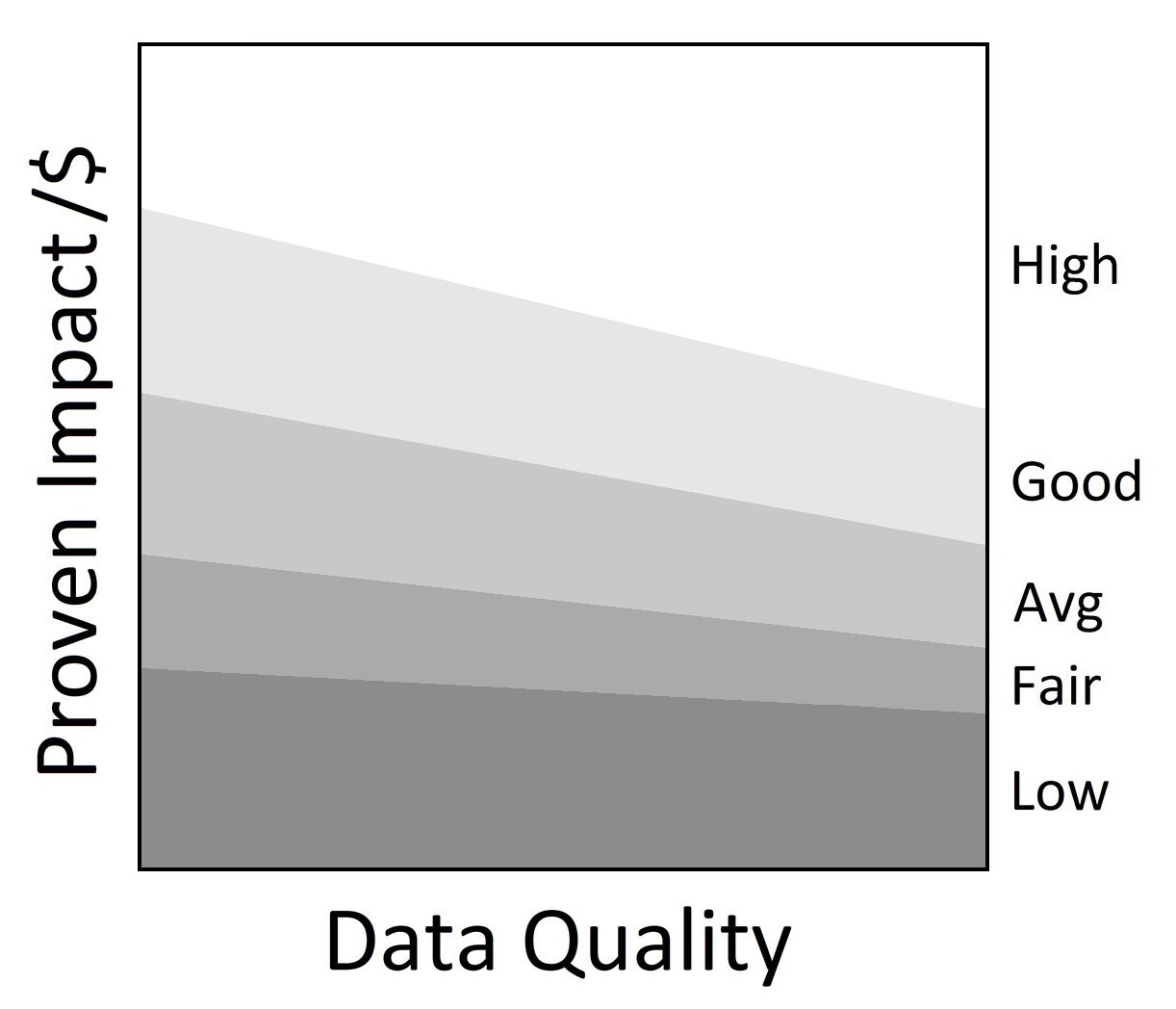 •
My anchor
Habitat for Humanity Manitoba is a medium-sized charity that received $3.1m in cash donations and special events fundraising in F2019. Ci gathered government funding from the charity's CRA filings, which are not yet available for F2019. Because of this, F2019 donations is likely overstated and government funding is likely understated.
Administrative costs are 30% of revenues (excluding investment income) and fundraising costs are 11% of donations (including donated construction materials) and special events fundraising. Per dollar donated to the charity, 59 cents go to the cause. This is not within Ci's reasonable range for overhead spending. Included in administrative costs are 100% of overhead salaries – Ci was unable to separately allocate salaries to administrative and fundraising costs.
HFHM's funding reserves are negative $9.6m owing to $723k in cash and $10.3m in debt. Debt represents mortgages that HFHM holds for its homes, which is repaid over time using mortgage payments from partner families. There has been a steady increase in payments from families (shown in fees for services revenues), with a 30% year-over-year increase in F2019 (18% in F2018). On-hand cash and investments can cover annual program costs at current levels for under two months.
This report is an update that has been sent to Habitat for Humanity Manitoba for review. Comments and edits may be forthcoming.
Updated on July 3, 2020 by Katie Khodawandi.
Financial Review

Financial Ratios

Fiscal year ending December

2019
2018
2017
Administrative costs as % of revenues
29.7%
28.9%
24.8%
Fundraising costs as % of donations
11.1%
12.1%
7.9%
Total overhead spending
40.8%
41.1%
32.7%
Program cost coverage (%)
(162.2%)
(98.0%)
(78.6%)
Summary Financial Statements

All figures in $000s

2019
2018
2017
Donations
2,338
2,030
2,657
Goods in kind
247
401
813
Government funding
0
1,575
1,558
Fees for service
2,420
1,654
1,359
Business activities (net)
763
733
1,012
Special events
739
697
835
Investment income
26
27
30

Other income

24

126

33

Total revenues

6,558

7,242

8,297

Program costs
5,927
7,059
5,171
Donated goods exp
162
121
598
Administrative costs
1,937
2,088
2,046
Fundraising costs
360
345
325

Other costs

428

282

225

Total spending

8,813

9,897

8,364

Cash flow from operations
(2,255)
(2,654)
(67)
Capital spending
243
52
54
Funding reserves
(9,615)
(6,915)
(4,065)
Note: Ci used the charity's T3010 CRA filings for government funding and backed the amounts out of donations. F2019 government funding is reported as $0 because the F2019 CRA filing was not available when this profile was updated. Donated goods in kind include donated residential properties valued at $86k in F2019, $279k in F2018, and $214k in F2017. Ci backed these amounts out of donations to report in donated goods. Fees for service includes mortgage payment receipts of $2.3m in F2019, $1.8m in F2018, and $1.5m in F2017, as well as changes in refundable deposits and prepaid expenses of $112k in F2019, ($125k) in F2018, and ($153k) in F2017. This increased revenues by $2.4m in F2019, $1.7m in F2018, and $1.4m in F2017. As a largely non-cash item, Ci did not include sale of properties to Habitat families in revenues, decreasing total revenue by $6.1m in F2019, $5.6m in F2018, and $5.1m in F2017. ReStore and Handyman revenues are reported net of direct expenses in business activities, unwinding amortization. This reduced total revenues and expenses by $1.8m in F2019, $2.0m in F2018, and $1.7m in F2017. To report on a cash basis, instead of including the reported cost of residential properties in program spending, Ci included costs associated with the acquisition and construction of residential property. This affected total expenses by ($690k) in F2019, $345k in F2018, and $961k in F2017. Program costs also include repair, maintenance and home warranty costs. Donated construction materials have been reported separate from program costs in donated goods used in programs. Administrative costs include Habitat for Humanity Canada affiliation fees of $116k in F2019, $74k in F2018, and $66k in F2017. As a non-cash item, Ci backed out amortization of capital assets allocated to administrative costs. Fundraising includes special events fundraising costs as well as public relations, media and promotions costs.
Salary Information
| | |
| --- | --- |
| $350k + | 0 |
| $300k - $350k | 0 |
| $250k - $300k | 0 |
| $200k - $250k | 0 |
| $160k - $200k | 0 |
| $120k - $160k | 2 |
| $80k - $120k | 4 |
| $40k - $80k | 4 |
| < $40k | 0 |
Information from most recent CRA Charities Directorate filings for F2018