STAR RATING

Ci's Star Rating is calculated based on the following independent metrics:
RESULTS REPORTING
Grade based on the charity's public reporting of the work it does and the results it achieves.
DEMONSTRATED IMPACT
The demonstrated impact per dollar Ci calculates from available program information.
NEED FOR FUNDING
Charity's cash and investments (funding reserves) relative to how much it spends on programs in most recent year.
CENTS TO THE CAUSE
For a dollar donated, after overhead costs of fundraising and admin/management (excluding surplus) 75 cents are available for programs.
My anchor
About Mississauga Food Bank:
Mississauga Food Bank is a top-rated 5-star charity. The charity is financially transparent and has Good demonstrated impact. It has an above average results reporting grade and its overhead spending is within Ci's reasonable range. Mississauga Food bank has $7.1m in reserve funds, which can cover a little over two years of program costs.
Founded in 1986, Mississauga Food Bank (known officially as The Mississauga Food Bank) is the largest food bank in Mississauga. It aims to relieve hunger by providing access to healthy food to those that cannot afford it. Mississauga Food Bank has a network of over 50 agencies, including nine food banks, 21 food pantries and 24 meal and snack programs. Mississauga Food Bank reports that one in ten people in Mississauga are considered low-income, for a total of 66,740 people. The charity adds that 45% of food bank users go without food for at least one meal per month and 46% of food bank users have gone in debt to buy food.
As well as providing food to people through food banks, Mississauga Food Bank provides a Home Delivery service, a Food Rescue program and a Community Market.
Food Bank services
Mississauga Food Bank reports 234,194 unique food bank visits in F2022. It distributed 5,222,247 lb of food, with the help of 30,864 volunteer hours. In total, Mississauga Food Banks helped 30,038 individuals, 10,053 of which were children (34%) and 7,238 of which were first time food bank users (24%). The charity adds that the number of food bank users has increased 16% from last year. The number of visits has increased 50% and the pounds of food distributed has increased 22% from F2021.
Food Bank 2 Home delivery program
The charity provides a home delivery service to help seniors with mobility restrictions, people with disabilities and those that don't live with anyone that can assist them. The deliveries provide over a week's worth of food. In F2022, 556,545 meals were delivered to 714 households. A total of 1,438 individuals were served.
ReclaimFRESH Food rescue program
Mississauga Food Bank reports that 44 million tonnes of food go to waste every year in Canada. The charity works with local grocery stores, wholesalers and food producers to pick up food that is no longer sellable. Mississauga Food Bank's food rescue program recovered over 875,000 lb of food in F2022.
Fresh Fruit and Vegetables Community Market
The charity holds community markets in high priority neighbourhoods that allow those in need to pick up free produce. Mississauga Food Bank reports that the markets served 2,062 households in F2022, distributing 44,670 lb of food.
Mississauga Food Bank also runs income tax filing clinics to help those with low income receive tax benefits. In F2022, it completed 199 returns for 314 clients.
My anchor
Results and Impact
Mississauga Food Bank reports that it provided 5,222,247 lb of food for 243,194 unique food bank visits. This averages to 21 lb received per visit. The charity reports 30,038 food bank users. This means that each user received an average of 174 lb of food.
The Food Bank 2 Home program provided 517,680 lb of food to 1,438 individuals. This averages to 360 lb of food per person.
The community markets served 44,670 pounds of food to 2,062 households, which averages to 22lb of food per household.
Mississauga Food Bank reports that its income tax filing clinic returned $1,079,019 to 314 clients in F2022. This averages to each client receiving $3,436.
While Ci highlights these key results, they may not be a complete representation of Mississauga Food Bank's results and impact. 
Charity Intelligence has given Mississauga Food Bank a Good impact rating based on its demonstrated impact per dollar spent.
Impact Rating: Good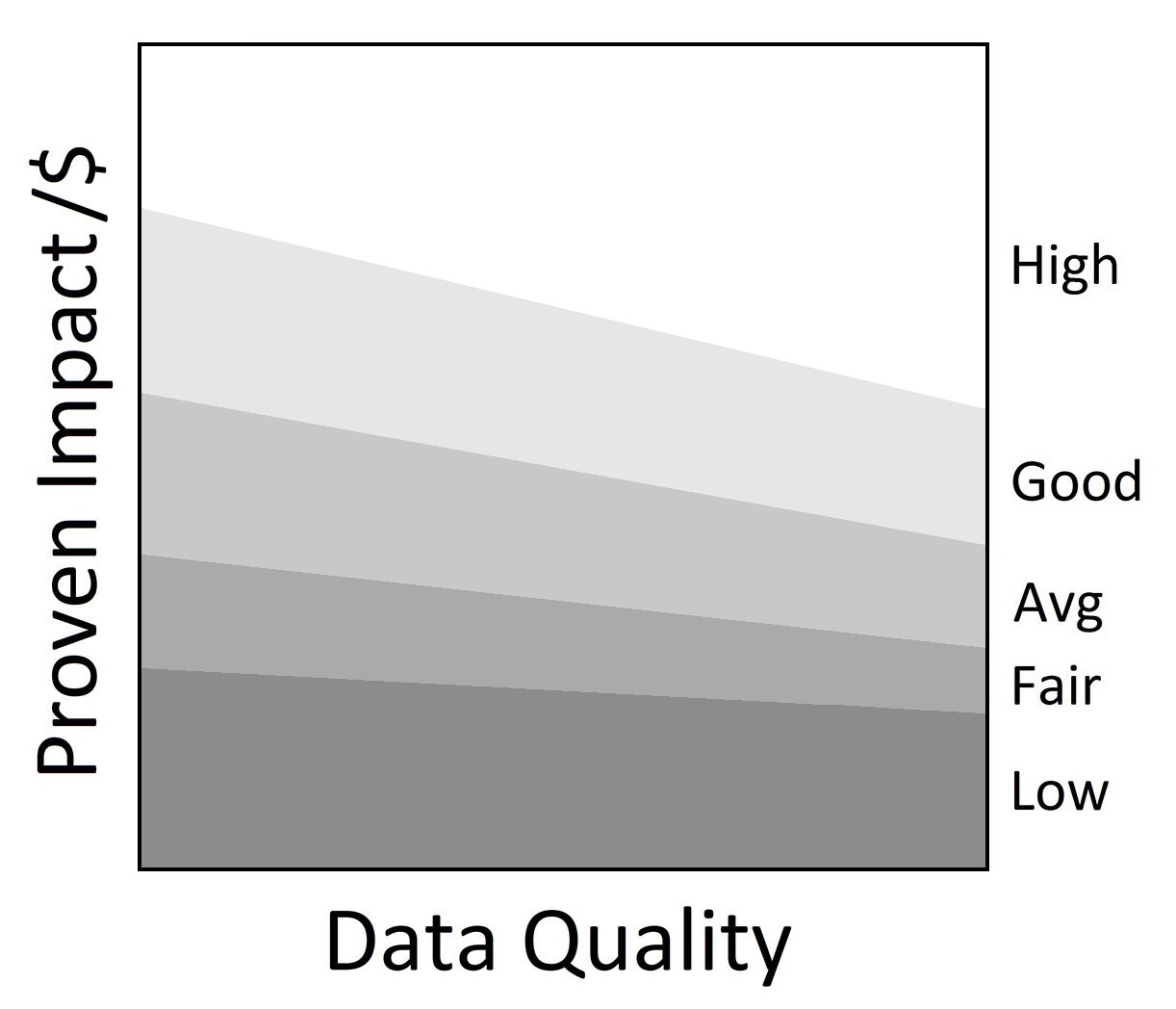 •
My anchor
Mississauga Food Bank received $5.2m in cash donations and special events revenues in F2022. It also received $14.4m in donated food and other goods, representing 71% of total revenues. Mississauga Food Bank's goods in kind donations estimated value increased by 52% from F2021 to F2022. 
Administrative costs are 4% of revenues and fundraising costs are 21% of cash donations and special events revenue. This results in total overhead spending of 25%. For every dollar donated, 75 cents are available for programs, which is within Ci's reasonable range for overhead spending.
Mississauga Food Bank has total funding reserves of $7.1m. The charity's program cost coverage ratio has significantly increased since F2019, mainly due to increased cash donations since the onset of the covid-19 pandemic. However, since F2020, the ratio has stayed relatively constant as program costs have risen along with reserve funds. Excluding the cost of donated goods, Mississauga Food Bank could cover 209% or two years and a month of its annual program costs with reserves. 
Charity Intelligence sent this update to Mississauga Food Bank for review. Changes and edits may be forthcoming.
Updated June 12, 2023 by Victoria Allder.
Financial Review

Financial Ratios

Fiscal year ending May

2022
2021
2020
Administrative costs as % of revenues
4.0%
3.2%
4.0%
Fundraising costs as % of donations
21.1%
12.7%
13.2%
Total overhead spending
25.1%
15.9%
17.2%
Program cost coverage (%)
208.9%
214.9%
200.8%
Summary Financial Statements

All figures in $000s

2022
2021
2020
Donations
4,983
6,109
4,331
Goods in kind
14,355
9,436
5,347
Government funding
531
461
294
Special events
260
557
726

Other income

63

66

24

Total revenues

20,193

16,629

10,722

Program costs
3,422
2,936
1,808
Donated goods exp
14,355
9,436
5,347
Administrative costs
800
533
429

Fundraising costs

1,106

846

665

Total spending

19,684

13,751

8,250

Cash flow from operations
509
2,878
2,472
Capital spending
0
17
5
Funding reserves
7,148
6,308
3,631
Note: Ci excluded amortization of deferred capital contributions. This affected revenues by ($22k) in F2022, ($24k) in F2021, ($26k) in F2020. Ci removed amortization, associated mainly with warehouses and food storage equipment, from program costs. Ci adjusted for deferred donations, affecting revenue by $10k in F2022, ($123k) in F2021 and $74k in F2020.
Salary Information
| | |
| --- | --- |
| $350k + | 0 |
| $300k - $350k | 0 |
| $250k - $300k | 0 |
| $200k - $250k | 0 |
| $160k - $200k | 0 |
| $120k - $160k | 1 |
| $80k - $120k | 6 |
| $40k - $80k | 3 |
| < $40k | 0 |
Information from most recent CRA Charities Directorate filings for F2022